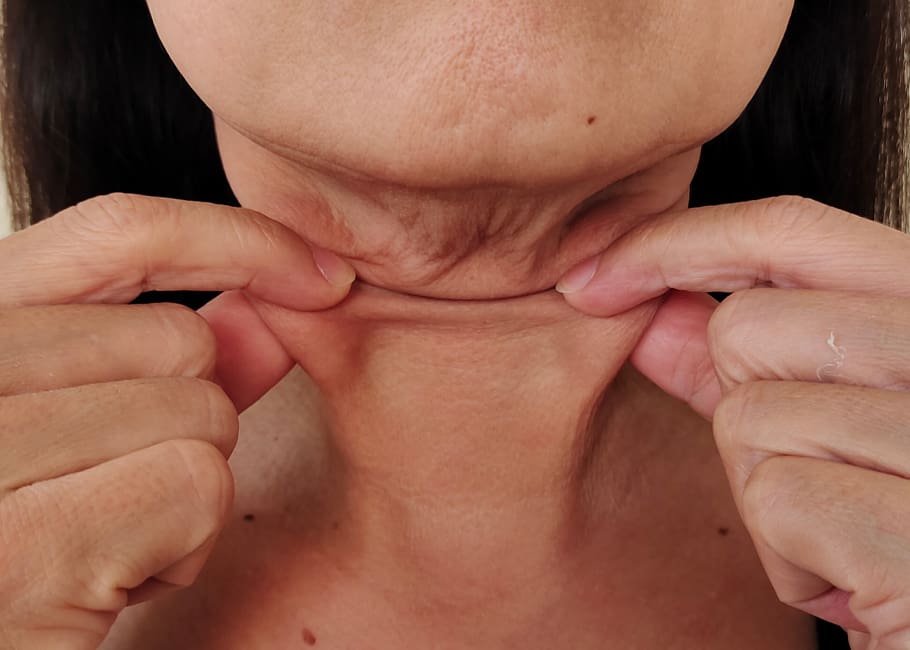 Sagging skin is a condition that can affect both the face and body, and a weakened skin structure is often found to be the main cause for developing this concern. As we start to age, the body's ability to produce effective levels of collagen and elastin in the skin begins to decline, leading to skin that loses its natural firmness and bounce. As a result the skin becomes loose and starts to sag.
The way in which we age can depend on both genetic and environmental factors, with certain lifestyle choices also playing their part. We may find that we follow a similar pattern of ageing to that of our parents, developing the same conditions to the same degree. However exposure to the sun's harmful rays, consuming a poor diet, alcohol and smoking can only speed up the process and exacerbate the visible concerns. Loose skin can also develop through significant weight loss. The skin may have been stretched over a prolonged period of time, affecting its ability to return to its original form.
Sagging skin on the face is usually most visible around the jawline, developing a condition known as jowls. When affected by these common complaints, a person can often feel they look older than they wish to, which can also contribute to a lack of self-confidence. Many people try to pause the effects of ageing with their own skin care routines, using cosmetic creams and moisturisers that claim to plump up and firm the skin.
Implementing medical grade products can dramatically change your skin's appearance, so ensuring you use the right product is important if you want your skin to maintain / regain the healthy condition you desire. Mediface Aesthetics are Obagi ambassadors and our team can create a bespoke skincare plan, aimed at targeting your specific needs / concerns. We also advise a daily application of an appropriate SPF to help prevent the skin from ageing, and Mediface Aesthetics are official stockists of Heliocare products.
At Mediface, you will receive a bespoke treatment plan to target your specific concerns following a detailed consultation with one of our experienced medical practitioners, you may be offered one or more of the following treatments to help treat your sagging skin including Morpheus8 microneedling with radiofrequency, Harmony XL Pro ClearLift, a non-ablative, fractional pixelated laser and ClearSkin Pro, a fractional non-ablative laser that uses acoustic pressure to cause trauma and thermal damage to the skin which in turn increases collagen production and an improved healing response, resulting in new tissue and younger looking skin. You may be offered treatments such as dermal fillers and Dermapen to help lift and tighten the skin. Alongside these we may recommend a bespoke skincare plan, which can help to give your face a tighter, brighter and more youthful appearance.
Book a Consultation
Treatments
Related Treatments